If you truly know me, you know that I am no fan of eating banana alone. I used to love it as a kid, but in my adulthood, you will
not
find me eating a banana in hand. However, mixing it up
is
different. Strawberry banana smoothie - ok. Banana bread - yes! And in this instance, I baked peanut butter banana muffins. =)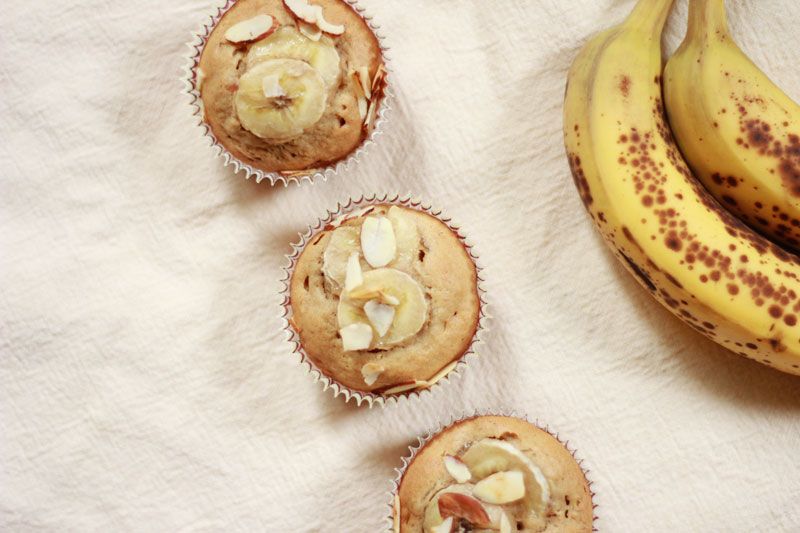 INGREDIENTS:
1 2/3 C of All Purpose Flour
1 tsp of Baking Powder
1 tsp of Baking Soda
1/4 tsp of salt
1/2 C of Vegetable Oil
2 Eggs
1/2 C of Brown Sugar
1/2 tsp of Vanilla Extract
1/4 C of smooth Peanut Butter
4 medium sized banana (one for garnish)
1/4 C Sliced Almonds
KITCHEN TOOLS:
large bowl
medium bowl
whisk
hand held mixer (if you have a baking mixer, you can ignore this tool & the large bowl)
muffin tin
muffin paper liners (optional)
medium size spoon/ice cream scoop
PREP:
1.) Preheat the oven to 400 degrees Fahrenheit (please remember, all ovens range from one to another)2.) Mash 3 bananas & slice up one (for garnish).
3. In the small bowl, whisk the flour, baking powder, baking soda, and salt. Set aside.
4.) In the large bowl (or if you are using a baking mixer), mix together the oil, eggs, sugar, vanilla, peanut butter, and mashed bananas.
5.) Gradually add the dry ingredients from the small bowl into the big bowl & mix. Mix until well blended.
6.) Line your muffin tin with liner (optional) and scoop up the mix with your ice cream scoop or medium size spoon. Fill half way. Garnish with one or two slices of banana and top it off with almond slices.
7.) Bake 12-15 minutes. Use a toothpick to poke the middle, if it comes out clean, they're ready! Pop it out to cool on a baking rack or plate. Enjoy!
I hope these steps help you out! I apologize if they do not make sense, as I have mentioned in the past, I'm not so great with these kind of posts, but I do try! =) Of course you can always substitute one thing for another (granulated sugar & brown sugar). Baking and cooking is always fun, it is like a science experiment. What is great is that, at the end, you can eat it!!! =) These peanut butter banana muffins are so perfect with a cup of coffee (or in Brady's case, Soy Milk) on a lovely, rainy Fall day!
Happy weekend, friends!!!