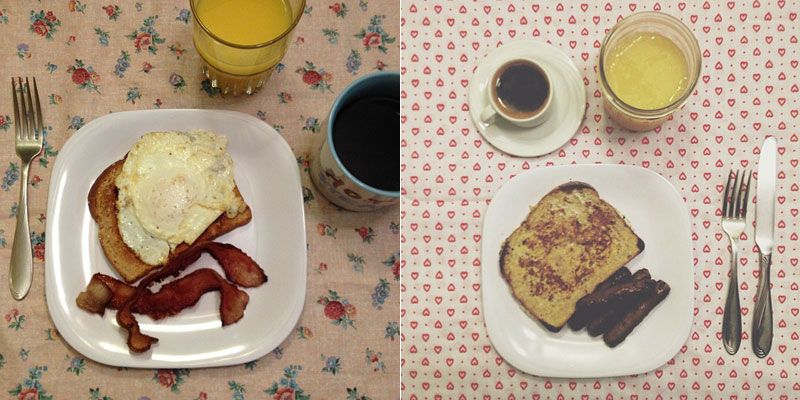 left:
toast, eggs (over hard), bacon, OJ, & dark roast coffee.
right:
french toast, maple sausage links, OJ, & straight up espresso.
For the past two or so months, I have made breakfast an important meal of the day; however it
used
to be dinner. =)
Don't get me wrong, we still do dinner together.
I think it is important for a good breakfast as sometimes, some of us may miss lunch (or have a late lunch) because our schedule could get
soooo
busy. Hey, it happens. Well, when you have that important meal, you are energized for the day and it is known to increase concentration for the day. It also helps you avoid eating a high sugar snack; which would probably lead you to eat more. So, let's try and wake up
sayyy..
half hour earlier than usual?
I think this also gives me an excuse to get us a new waffle maker since,
somebody
decided to break it a week after I brought it home... Luckily, I was able to make a few for us before it br.oke. =)
You would probably laugh at me if I told you that I would make Brady his oatmeal then myself a similar breakfast as the above photos. I only made him oatmeal because that is what he would ask for. However, I had such a hard time making oatmeal. He even said, my feelings were not hurt. It was just quite funny. Eventually, I gave up on the oatmeal; though he said I was getting better. Now, I make us the same breakfast, less for me (in a sort).
Here are some future breakfast ideas that I am looking forward to in the future to make for us: yogurt parfait, pancakes, waffles, & egg and ham on english muffin sandwich are just a few to name. I am getting excited, I hope you are, too! =)
Have a good night sleep and an energized breakfast tomorrow morning! =D