Sunday bake session. I also broke my pretty ceramic teaspoon. Life can be so unfair. =/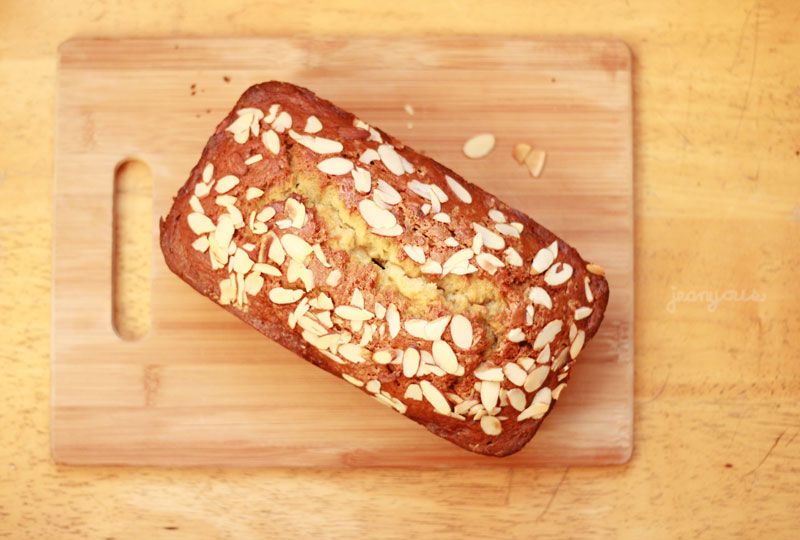 INGREDIENTS:
3 or 4 ripe Bananas, smashed
1/3 Cup melted Butter
1 Cup Sugar
1 Egg
1 teaspoon Vanilla
1 teaspoon Baking Soda
Pinch of Salt
1 1/2 Cup Flour
handful of Sliced Almonds (optional)
WORK IT!!
Preheat your oven to 350 degrees Fahrenheit.
With a fork, in a big bowl, I mixed the butter into the mashed bananas.
Mixed in the sugar, egg, and vanilla.
Sprinkle the baking soda and salt over mixture.
Lastly, gradually add flour and mix.
Pour your mixture into a buttered 4x8 inch loaf pan.
(Optional) Sprinkle sliced almonds on top.
Bake for one hour. (stick a bamboo skewer in middle to check if done. if you have mix on skewer, allow to bake a little longer). Cool on rack when done, remove from pan and slice to serve!
Is this a new trend I'm doing on the weekend? This weather has made me enjoy baking more and more. I wonder what I shall bake next week? Coffee cake? Red Velvet cake? Hmmmmmmm....