Hello. I'm here to give a quick and easy tutorial. At least I hope it's easy and understandable... I really am trying to be better about sharing how I do things... So, again, please forgive me if you don't understand. Email/comment if you need clarification.
I am pretty picky and love planners. Typically, I can go through about three plus planners a year because I seem to find cute ones throughout the year then switch over. I like the size I have, 9.75 in x 7.5 in. I don't carry it everywhere with me, but when I do, it's not too bulky or too little. It is my planner and doodle book so I do not have to carry both a planner and notebook to take notes/doodle. Simple. I love the graphing style/quad versus the line. And when there is line, I like college ruled, not wide ruled. I also try to find recycled paper as I love writing on the type of paper. :) Anyway, getting off subject... let's see....
What you'll need: Notebook (you really can use any kind that is not cloth, haven't tried this on cloth yet). Brush. Scissor. ModPodge. Washi tape. Pictures (I printed from the computer, you can use picture paper too, or in middle school -we did magazines).
Alright... So, basically lay out how you would like it before you stick it all on... stick some modpodge on back of photo... allow dry some... One layer of Modpodge over cover. Dry. Do another coat if need be and tada! It really is that easy!!!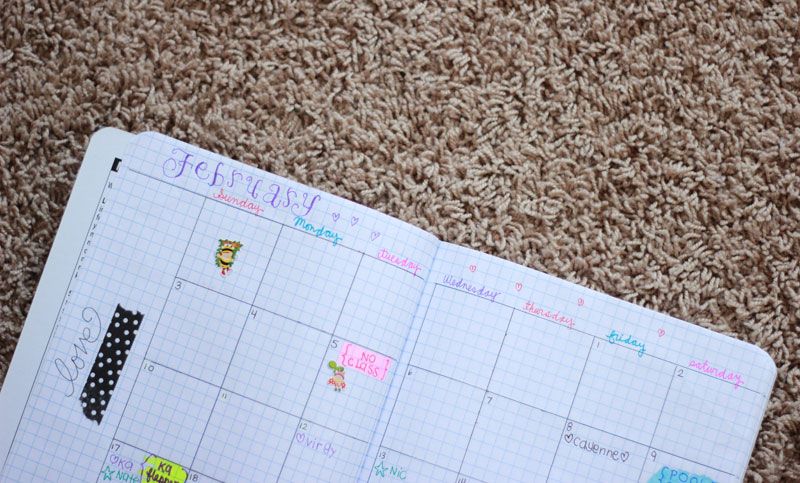 For my calendar, I made each day 7x7. On the left side, I left room for additional notes or doodles. I am sure you can add it to the right. I made seven big squares across (left to right) and five big squares top to bottom. I measured and did this carefully as I didn't want to go back in ink. Also used a ruler for straighter & faster lines. I made all the months. After each turn it's blank because I tend to press down hard when I write and sometimes I don't like when my ink bleeds through the paper... After the months, I left blanks for doodling, taking notes, journaling, planning, etc...
So, there you go... I hope it helps. I'm trying to be better about photographing my process and explaining things. It's not easy, but it's a start. :) I hope I don't go out and search for anymore planners as I did spend some great amount on making this one. I am very excited to just happen to stop by the stores and find real cute stickers to add in this book. :) :) XO -Jean