I finally made a camera strap cover... and then I made a few more.
I really like this idea of a camera strap cover versus camera strap as you will need more supplies for the camera strap... and I will take what I have on hand.
Plus, I can change the cover whenever I want =D Yay!!
A special thanks to B's aunt, I used the fabrics she gave me. Thanks Judy!! =) =)
Anyway,,, some photos (taken by my point & shoot). And I'm not all that good with step by step's how to do... So, I apologize in advance. And, I am by no means, an expert of photography or sewing or of anything. I still am learning as I type!!! Here goes ~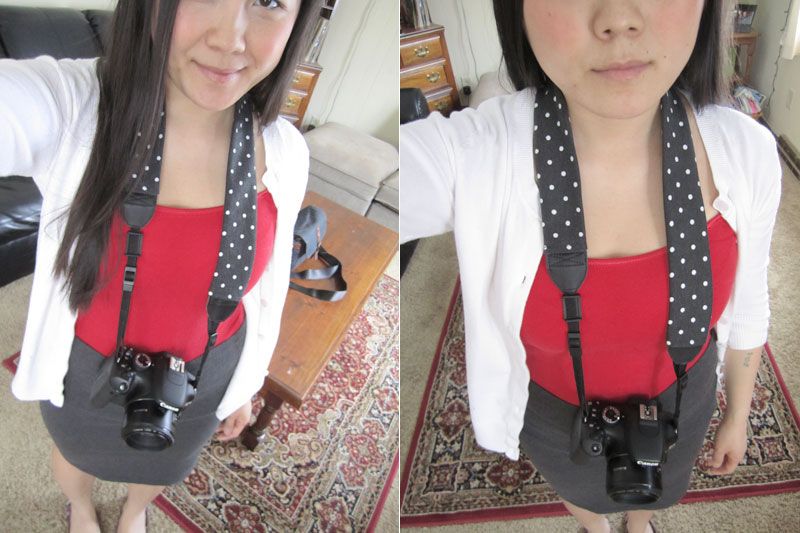 WHAT I USED:
sewing machine. thread. scissors. fabric. iron.
this is what I did
-- unstrap camera for this. -- fold fabric in half. make sure the side where you want the fabric to show is folded in (the face). lay camera strap over fabric a half inch from the fold. -- cut around strap, giving half inch space. be very careful not to cut camera strap!! -- remove strap and iron fabric. -- open fabric (face facing down) fold the ends to the back, on the long side about half inch and sew. -- fold fabric, face to face and sew the ends (opposite side should be the fold). -- you can can criss cross the hem, serge, or leave it. -- turn inside out, iron flat. -- fit in the cover & restrap and snap away!!
Again, I am terrible w/ these step by steps, so I apologize for any confusion. Email/comment if you need help! =) =)
*sew at your own risk.