I have some time to kill. . . : ) (Yay!) I found this on
Janet
's blog. We are linking up with
The Simple Woman's Daybook
today. : )
Time:
8:56 PM
Location:
Home Sweet Home
Outside my window – Three sets of footprints in the snow. . . the mailman, a squirrel, and the third, I do not know?!
I am thinking – school. How I cannot wait for the semester is over with as towards midterms it becomes a drag and I start to get bored. Ugh.
In the kitchen – I like me a clean kitchen (overall, clean house). However, on the kitchen table is a bottle of cold medicine. My sweetheart has been sick. So, I will not go bananas about this odd thing on the kitchen table.
I am wearing – underwear, one of B's sweatshirt, and my sparkly slipper boots.
I am creating – tomorrow's meal plan as for crafty-ness, nothing currently. Boo.
I am going – to put away the rest of the laundry then lay on the couch with my sweetheart and watch football! :)
I am wondering – why when I share some things with certain people, they have to twist it and turn it so negatively. It was not my point.
I am reading – blogs. No books, just textbook.
I am hoping – that plans fall nicely together! : )
I am looking forward to – my parents coming home from their vacation. Not that I want it to end early, but for their safe homecoming and to hear all their stories and see pictures of another successful vacation.
I am learning – to let things go. I do not need so much clutter.
Around the house – is pretty clean, quiet, and cozy.
I am pondering – about this whole fake Christmas tree thing. B and I agreed on no Christmas tree this year, but seeing it all up at my family's homes made me want to put one up, even if it.is.not.real. So, this year, I am getting a tiny fake one. I am very nervous about it. The past nine years, we've had real ones. Eeeks.
A favorite quote for today – "Always be a first rate version of yourself instead of a second rate version of somebody else." –Judy Garland
One of my favorite things – Getting French bakery goodies then going for a walk around the lake (of course with my sweetheart).
A few plans for the rest of the week – Get my final project for class started. Get Christmas decorations up. Start Christmas shopping.
A peek into my day -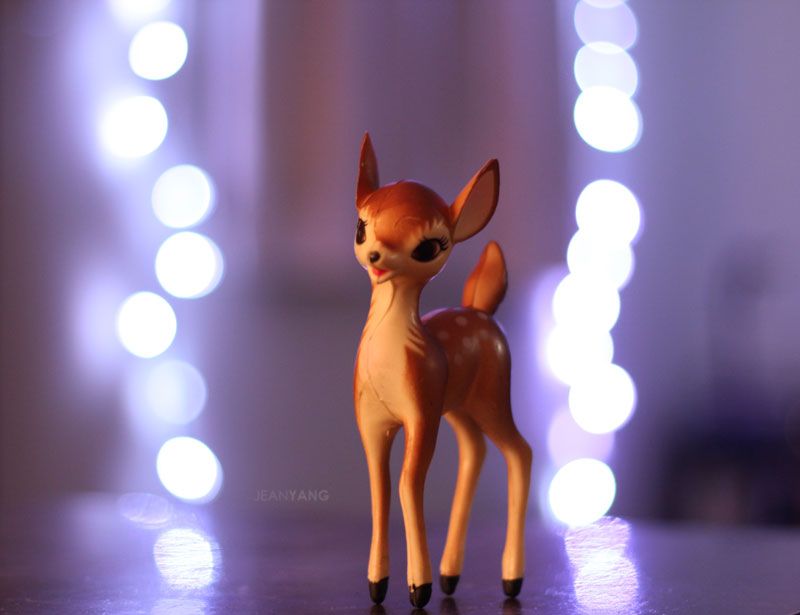 One of my find for the day from the thrift store. Cute little deer :)
Alright. Have a goooooooooood night! :)