Hey Linked Friends,
To make things easier, I added a
link
button above, below my header photo. Hope you'll find your way more smoothly (not that anyone was complaining because no one did).
Anyway...
Hope everyone had a great Fourth!
These past days have been super hot! Humid! Sticky! Hoping that you are adding some fresh fruit and veggies to your summer meal plans! We sure are!! I have been going to the supermarket left to right for more fruits like no tomorrow. They're
soooo
good!
I made something Red, White, and Blue to eat! I love making covered strawberries and the other day, I happened to cover my red strawberries with white chocolate and then dipped it into blue sprinkles. I would have baked something, but honestly. . . I am not much of a sweet tooth (but this was exceptional) and B really has not been eating much sweet since his Brazilian Jiu-Jitsu classes.
I apologize in advance if I make your mouth watery.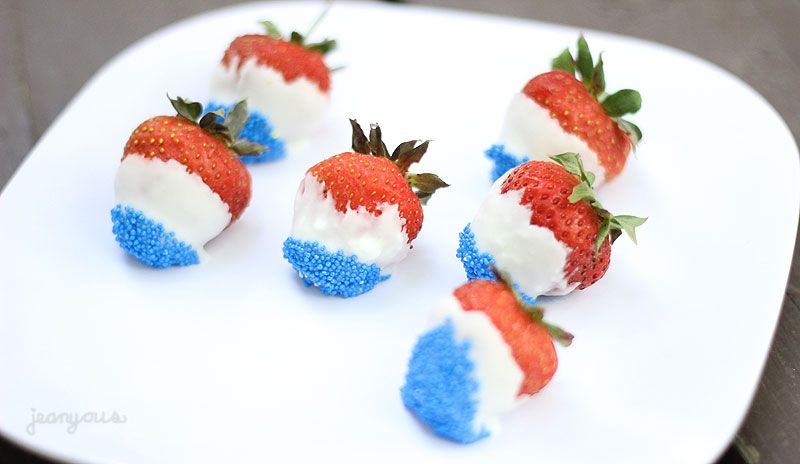 Can you believe these lasted more than three days in our house? I made a little over two dozen, too!
I'm excited to see what the other ladies have for
Red, White, Blue
, come check them out as well:
Carla
,
Stacey
,
Tracey
,
Michelle
,
Heather
,
Jenn
,
Naomi
,
Jessica
,
Kristin
,
Sara
,
Janet
,
Lesli
,
Amanda
,
Amanda
,
Rose
,
Tracy
,
Rhonda
,
Lena
,
Heather A.
,
Veronica
,
Heidi
,
Amy
,
Andrea
,
Liza
, &
Kristi