Yep! If you have received a tour to our bedroom before, you've talked about these stairs. . . and whether you walk, run, or climb
up
these stairs, be careful. They are
steep
!
You probably have seen a glimpse of our bedroom
here
and not much has changed. . .


I could tell you that every time my little nieces and nephews come up here, they see this. . .




Yep, just about their point-of-view. And then they get up on our bed and see them up close, they see this: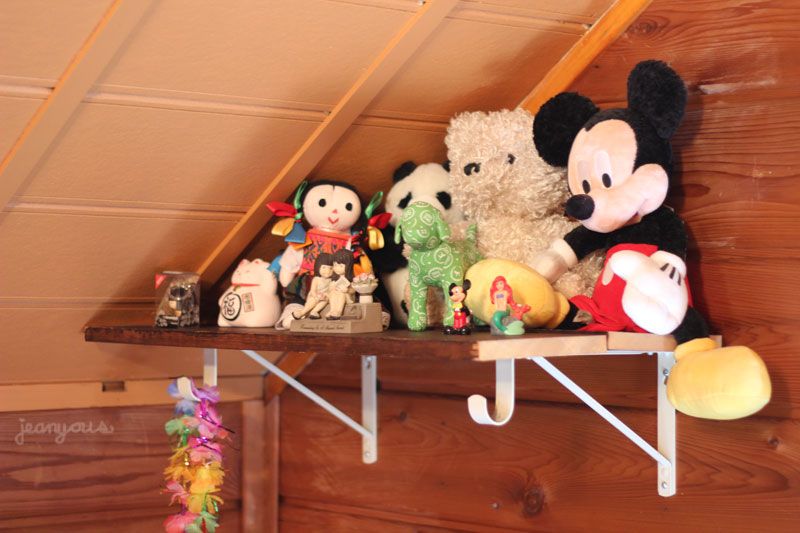 They just want to take them from up there and play with them, but they're my special toys that can only watch us from up there. And now this makes me wonder, should I start buying cute little toys for around my house for when they come over? :) (I guess because books and drawing pad and writing utensils are so boring since every three year old has an iPad).

Anyway, B and I still have some work to do up here. Pretty basic: up to date electrical stuff --which he deals with and I want to dress the walls and windows some more.

It feels so nice to sleep up here. It reminds me of a little cottage in the woods, far, far and away. Love sleeping up here when it rains/storms. So nice! But to be honest, we don't remember the last time we have slept up here. Really! It's crazy! There's nothing wrong up there, but if you know us, you know we are pretty random and do whatever we feel like. =)

Yep, so that's up there and when I feel ready, I will share more of what is up there.
If you want to know what's up with the other gals, click 'em here:
Carla
,
Stacey
,
Tracey
,
Michelle
,
Heather
,
Jenn
,
Naomi
,
Jessica
,
Kristin
,
Sara
,
Janet
,
Lesli
,
Amanda
,
Amanda
,
Rose
,
Tracy
,
Rhonda
,
Lena
,
Heather A.
,
Veronica
,
Heidi
,
Amy
,
Andrea
,
Liza
, &
Kristi
Have a great weekend and Happy Mother's Day! :)