I have words today! Yay! . . . because the past two Wednesday I have been wordless. Anyway. . . A few weeks ago, I purchased an inexpensive easy-to-put-together easel, some canvases, oil paint, paint brushes, and paint trays. I started on a painting for my sister D. . . You can see some snap shots
here
and
here
. I swear, just about every piece I produce (drawing, photo, sewing, etc), I am not happy with it. Maybe it's because I'm
too
hard on myself? I just feel, my "work" is
never good enough
. -__- Anyway, I haven't painted since the ninth grade! That is like, over a decade ago! And I had used acrylic paint. This is my first time using oil paint. It is different, however, I really like the texture when it dries. I am excited, yet nervous to share it with my sis. I hope she likes it... and by that I mean, hang it around her house, HA!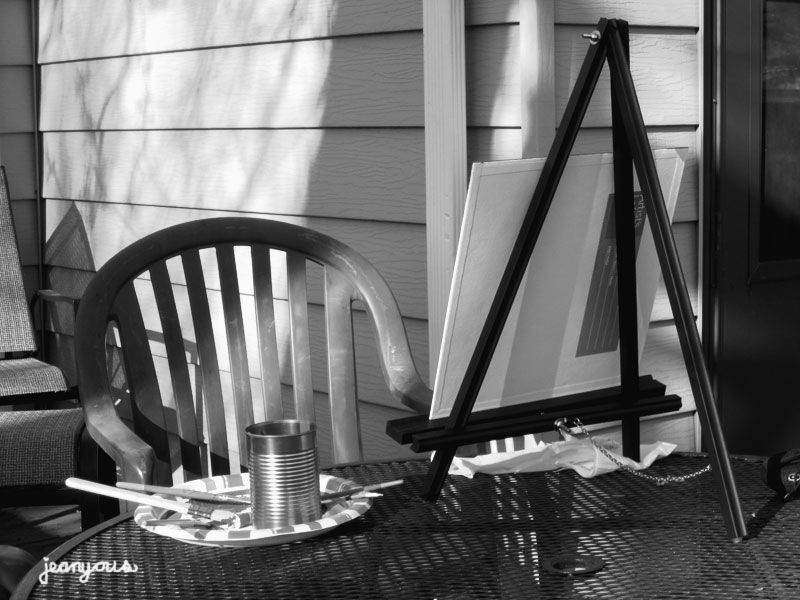 So happy I was able to paint outside this afternoon! YES! <3 <3 Sun in my face. Music thumpn'. Paint brush in my hand. This is LOVE!!!!

Top secret!

So hard to oil paint off hands. That is why I purchased gloves! :)

I am almost completed with this piece. It was pretty simple and this certain item... I am not best at drawing it. I do have a hard time when the kids in my class ask me to draw this certain piece.
This definitely will not be my last time painting... or using oil paint! Now. . . what to draw next. . . I have a project that the BFE and I are doing for each other, due in JUNE!! Eeeks! That'll fly
fast
! Stay tuned if you want to see my first painting in over a decade! :D