Underneath my coffee table in the living room are a few photo albums. Photo albums that consists of great photos. Great memories. Memories that make me laugh. Memories that make me cry... cry because I'm very blessed for a wonderful life. For the wonderful people in my life. Filled with joy.
These photo albums were hiding in my bedroom. I took them down the other day to share with a friend.... I need to find a new home for it, in the living room or where friends and family are able to get hold of it without me running to my bedroom to grab them.
Underneath my coffee table should not be this messy! And don't even ask why it's pushed up against the wall, (*laughs*).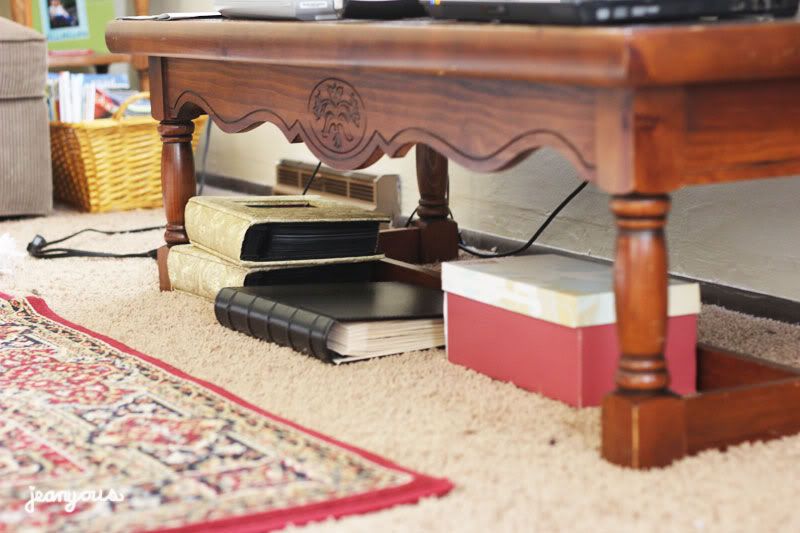 Alright friends, sorry I haven't been around much. In the progress of putting up pretty little things around the house. Keeping it authentic <3 So excited. Really hoping to get my hands on this painting!! >__< Too many things to do in so little time and not enough me. Underneath it all, I'll suck it up and enjoy every bit of what I can. Have a great weekend!
Read what is friends have to say about
underneath
...
Carla
,
Stacey
,
Tracey
,
Michelle
,
Heather
,
Jenn
,
Naomi
,
Jessica
,
Kristin
,
Sara
,
Jante
,
Lesli
,
Amanda
,
Amanda
,
Rose
,
Tracy
,
Rhonda
,
Lena
,
Heather A.
,
Veronica
,
Heidi
,
Amy
,
Andrea
, &
Liza