So, I just wanted to share with you something I have been wanting to search for. . . (I shared it elsewhere so, you might have already seen it). It took me about an hour to look through
all
the videos to finally come across
this
. . . I probably saw it
wayyy
back then, but I forgot how it went. To see it again, , , some 15-20 years later, , , I had some tears in my eyes maybe because it was so hilarious or that my bangs were ridiculous or that I cry easily. Wow, I was probably 8, 9, or 10 years old? I had the same classmates for grades 3-6, so. . . I'm not sure. B and I watched the video and laughed. I mean, I was on public television! And I love shows like this! :) It was a great opportunity and great school I had attended.
Well, here's a photo of me then. Again, not sure how old I was.
And me, November 2011.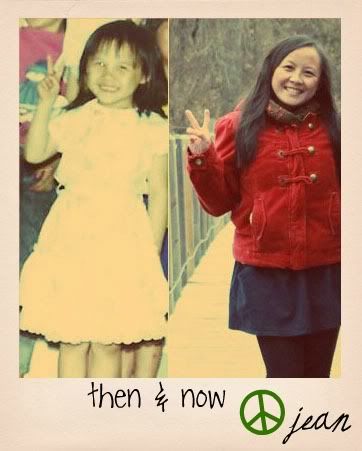 So, I am legend with the peace sign, I guess. Ha Ha.