I say that because of all the red faces (sunburn) I'll see and saw from the three day weekend under the beautiful, burning sunshine. So glad I did not get burnt,
so glad
! I hope everyone had a wonderful weekend with loved ones. I had a grand ol' time =) Here are a
some
photos to sum up the weekend I spent
home
[
sweet home
].
Saturday.
Slip off your sandals and run barefeet!


Grilled with a few of the siblings, nieces, nephews, and in-laws at Snail Lake. The boys had fun catching little sunnies in the lake. However, it doesn't amuse me catching sunnies, waste of my time.


Almost, just almost had all the nieces & nephews in one summer photo, but Chris just had to stay out of it because he thinks he's too cool now that he's a "teenager." Wow, can't believe it, how old he is... I still remember changing his diapers when he was a few days old... Awww!


Yeap, had to bring famous blue lawn chair. Love, love it!!!



Then we headed over to Ka's after Snail Lake fun...


Current photoshop fun activity: Multiplies.. not sure on the proper photoshop term >.<

Lisa painting/decorating nails... And look on the photo below... It's just hilarious. Like mother, like daughter!!! Lisa painting nails, her daughter painting nails. Sister-in-law getting nails painted, sister-in-law's daughter getting her nails painted. Mary sitting in the back watching nails get painted, her daughter watching nails get painted. TOO FUNNY!

Sunday.
Before The Black Keys Concert at the Roy Wilkins Auditorium, we grabbed a bite to eat at Cossetta. The food was delicious. I love pasta salad! Again, thank you Nate & Andrea for rearranging things. We had a great night!



Monday. [Happy Independence Day]
Every July 4th weekend, the Lao Family Community Center holds the Annual Hmong Sports Tournament. I used to play soccer in these tournaments, but haven't in the past three or so years. They were fun times! Anyway, this year, I did not attend it, but today, I craved for the food!!! We stopped by the Hmong Village, but it was super packed!!! I guess it made sense, people were still in town and it was one more day of the J4 Tournament excluding the sports. Hmong Village was not a success for lunch, so we headed to the Deli at Golden Harvest and ate at Mounds Park.


We haven't been here since the Saint Paul's Winter Treasure Medallion Hunt. Man, we still always say it... Brady should have pushed me down that hill.. We were so close!! AH!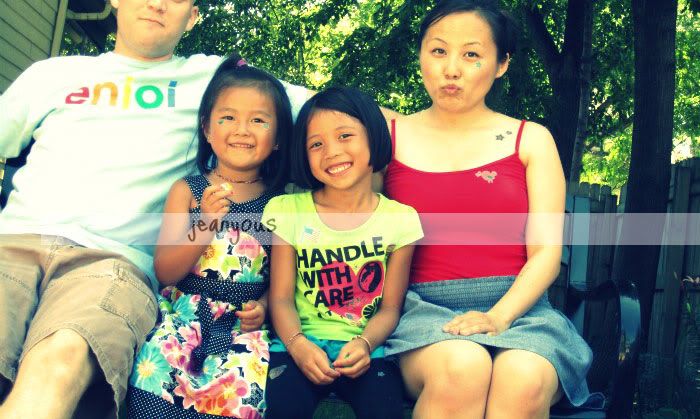 Stopped by Ka's again... The girls loved the July 4th glitter stickers =)


@Como Lake.


...and final stop for the weekend.


I am so worn out! Love the sun, makes me happy yet exhausted.
Have a great rest of the week. Now, back to reality fun. . . . .