When Babe works, he works and he is very focused and doesn't let
anything
distract him, not even me, and most importantly (in my opinion) FOOD! When I am hungry, I am hungry which means,
crabby
! I need to be well fed to work efficiently, in most cases.
I have had this happen many times, I forget to eat all day for whatever reason or if I am too busy and I am not able to eat... I get sick to the point where I cannot eat and if I do eat... (please stop reading NOW if you are easily disgusted, Skip to next paragraph)........
I might just vomit
! I get these weird happenings from my dad. My blood sugar gets low and I have to eat... Do you get like that?
Anyway, with that being said, I made
cold turkey ham wraps
for B because I don't know how he can go on a day without eating until four in the afternoon. I mean, yogurt and a cupcake doesn't count as a meal. At least, not for me! I mean, I guess because his appetite is rather less than mine. But when he wants, he can EAT. I mean, EAT!
It's simple and he doesn't have to heat it up.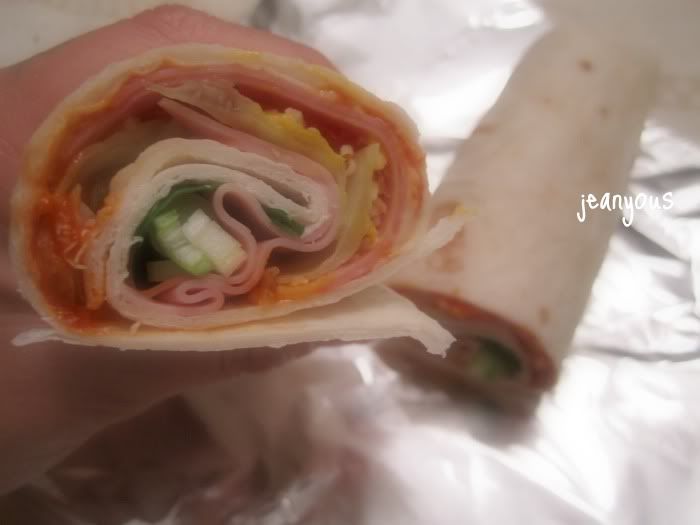 Turkey-Ham wrap includes: turkey & ham (of course), tomato slices, lettuce, shredded cheese (since I forgot to buy cheese slices), cilantro, green onions, Sriracha hot sauce, chipolte mayo, yellow mustard, & plenty of Jeanyous Love ;)