With the weather all nice, I have been out and about! Yesterday, I was able to turn the oven on without sweating! I baked some goodies for Babe. I barely eat such sweet things, but it can be fun to make ;)

I even put the frosting in a bag so we can be almost as cool as the bakers we see on TV and Blogs!
I cheated for the cupcakes, I used one from a box... However, for the frosting, I only make it because I cannot find any that are not super duper sweet. I use a cream cheese recipe from my recipe book. If you'd like, don't hesitate to ask. I will share :)
I am a novice with baking, I am always willing to learn :) I am happy!

If I see cute/pretty sprinkles and/or cupcake cups, I will buy them, store them and use it whenever I bake cupcakes! They are so pretty!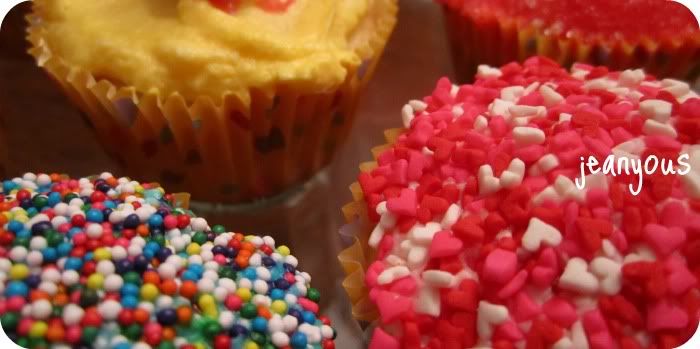 These sweet cupcakes remind me of how
happy
and
in love
I am with
life
because
I
rule
my world
! I make my happiness happen, I can't sit here and hope for it. . .