are pretty bare and I am a poor
interior designer
; however, with the help of family and friends getting their own homes lately... I have been motivated and inspired (and of course from reading other blogs). I know, I know, we've been in this house for what,,, some two years and I am now
just
decorating.
All I know is, I want our kitchen theme to be based on Coffee-latte-tea (because we love coffee and that's how we met, from coffee). One step at a time. . .
Anyway, awhile ago, I told Brady's mom I wanted to decorate our kitchen with coffee stuff and here is what I got from her... This super
cute
tray!! I wanted to hang up some cups and have been debating for awhile where and what to hang it from... So, here is what we did with it. Brady was so kind and put it all together for me --he put copper wire to hang it. And I found some steel hooks and spray painted it black. I am sure you can find black hooks anywhere, but I was eager to do this project.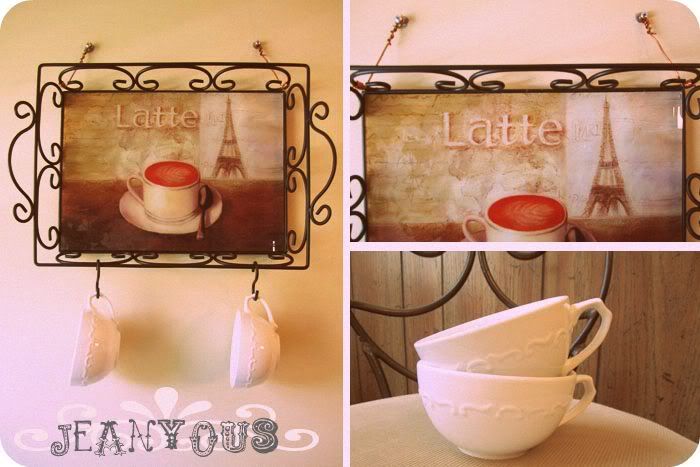 I am not done with decorating the wall. I have a few coffee photos I want to frame up and surround the tray. --Just wanted to share what I got so far, can you see I'm excited. It's going to look super cute! More photos to come when I finish! :)
The next room I want to work on is our bedroom
or
living room (undecided of the two). It's a bit of a challenge if you've seen our living room, it's rectangular. And our bedroom is cottage/cabin-like.
Stay tuned.